IOTRONIC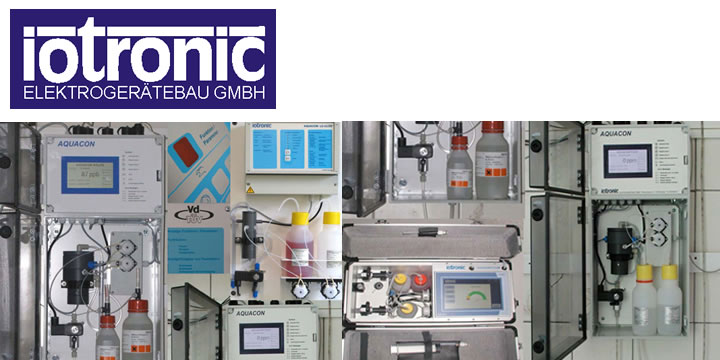 Since 1973, we are engaged in developing and production of water analysis systems. Our product range covers a large spectrum of process analyzers which are used for the analysis in drinking water, cooling water or boiler water (e.g. residual hardness, total hardness, polyacrylate, chlorine, chlorine dioxide, ortho-phosphate, silica etc.). We also have small chlorine dioxide water disinfection systems in our product portfolio
economically priced process analyzers without unnecessary gadgetry - that is our credo! Our process analyzers of the AQUACON series have integrative design and are very easy to handle. All parameters are printed on the front panel, so that for the daily use, an operation manual is not required. All AQUACON analyzers are mounted in a stable polycarbonate wall cabinet and can be operated via touchscreen.
Our chlorine dioxide water disinfection systems of the BAVIKI series generate chlorine dioxide without pressure. In comparison to common chlorine dioxide generation systems, they have a very high operational reliability and safety. Iotronic water disinfection systems are used for water disinfection and protection against legionella in hospitals, nursing homes, hotels, swimming pools, cooling towers etc...
Take your benefit from our over 40 years experience with Water Technology.
---
IOTRONIC Products
Reliable process analysis automatic operation incl. self test and drift compensation, easy operation via touchscreen, adjustable limit and alarm value, programmable analog output (0/4-20 mA),